Looking for a Spiritual Community?
Looking for a church that believes we are all One?  Check out Unity on Greenville - a friendly, warm congregation at the corner of Greenville & McCommas, Dallas TX.  If this location isn't near you, others are in the metroplex.
Find a ACIM Study Group

Miracles Distribution Center is a long time resource center which helps locate study groups all over the world and sells Course-related books & audio materials.  

A Course in Miracles - your own copy
Need your own copy of A Course in Miracles?  Available on line, e-book, or in hardback from the Foundation for Inner Peace. Dallas' Half Price Book store, and, of course, Amazon.  The Foundation for Inner Peace has information about the Course you might be interested in as well.
Miracles Magazine
A hard copy is delivered to your door 6 tmes a year. Miracles Magazine has numerous articles from a variety of people living the Course principles.  It notes many workshops and conferences focusing on ACIM. 

The Foundation for A Course in Miracles

Foundation for A Course in Miracles founded by Ken Wapnik, one of the original scholars, is a great resource for commentary on the Course.


"Silent Unity. How may we pray with you?"
Do you have a prayer request? There are several ways to contact Silent Unity, the 24/7-prayer ministry:
Call: 1-800-NOW-PRAY (669-7729)
International: 01-816-969-2000
uPray mobile prayer app
Write: Silent Unity, 1901 NW Blue Parkway, Unity Village, MO 64065-0001
Or use our online prayer request form on 
www.unity.org/prayer
Psych-K (Psychological Kinesiology)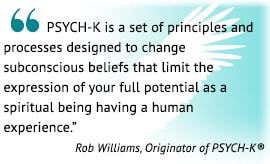 Psyche-K (Psychological Kinesiology) is like "talk therapy on steroids!"  I have seen visible behavioral changes in my life since working with Christina Wester, my practitioner of Psyche-K and that was after only 3 sessions with her.  Essentially, using muscle testing, Christina helps one locate beliefs that are blocking one's good and restores beliefs at a deep level that will keep us on the Love Track. Grace Vyvyan
Live Your B.E.S.T

At Live Your B..E.S.T. we balance the "system" of energy of mind-body-spirit to allow for complete Health and Healing.  Thru this non-force, non-linear technique clients let go of thoughts, emotions, and energy patterns that are interfering with their Health, Happiness and Success in life.   Some of the effects of the B.E.S.T. treatments are: Improved Energy and Vitality, Restored Balance, Relief of Pain, Healing of Organs, Organ Systems, Resolution of Other Life or Health Challenges, Peace of Mind, Greater Awareness, and Lightness of Being.
Discover more on how B.E.S.T. (Bio Energetic Synchronization Technique) can help you with your Health, Relationships and manifesting Abundance in your life at
www.liveyour-BEST.com
or contact Holistic Health Practitioner Robert Bauge, B.S., M.S., at 817-680-2462 
True light is a state of mind that has become so unified it cannot see darkness at all.
The Course in Miracles (ACIM)